Water main break in Silver Spring bursts again | News
SILVER SPRING, Md. (WUSA9) --  A 90-year-old water main that broke Sunday burst again Tuesday morning on Bonifant Street.  
At 2:30 a.m. a 10-inch water main broke in the 900 block of Bonifant Street. Officials with the Washington Suburban Sanitary Commission tell WUSA9 the same pipe ruptured Sunday. Crews spent Monday repairing the pipe. Only a section was replaced. Lyn Riggins, a spokesperson for WSSC, says this is typical for aging infrastructure during winter months. Riggins said it is likely the pipe will be flagged for replacement. 
For Lene Tsegaye, a business owner on the block, the broken water main meant another day away from her café. 
"This morning when I came to reopen, there was no water," said Lene Tsegaye, who was one of 22 customers without water service. Tsagaye reopened her business three weeks ago. She was forced to closed almost one year ago when a neighboring restaurant caught on fire.
"You can't really open , so you cannot make money; you cannot open up for the customers," she said.
Joel Graham has worked in the area for years and believes it is prone to underground issues. He recalls several water main breaks over the last few years.
"They need to come in and have a hard look at what's under there," Graham said.
Crews also spent the morning on University Boulevard at Carroll Avenue near Piney Branch Road, where a 12-inch water main broke Sunday night and left a lot of cleanup for crews. 
A section of the pipe was replaced Monday followed by road repairs.
On Tuesday, two eastbound lanes were shut down around 9 a.m. so crews could repave the road. Those lanes will be closed through 5p.m., according to Riggins. 
The process should be complete by the end of the week.
On Bonifant Street, Riggins said impacted customers will have their water service restored when repairs are complete sometime late Tuesday afternoon.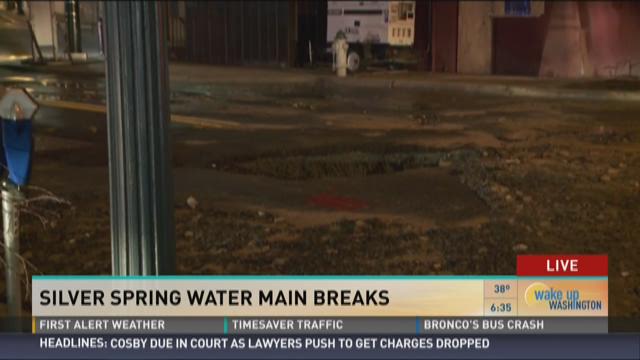 Like this story? Like us on Facebook